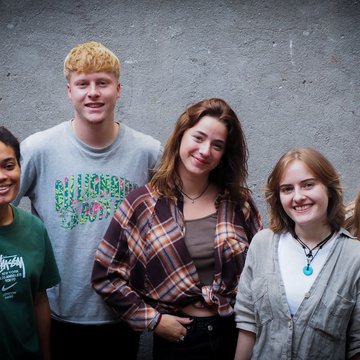 We create campaigns that make you feel, make you smile and make you think. We are led by what we think is important, not what is expected from us. We dare to push the boundaries. We make serious issues known, not always in a serious way. We are bold.
this is bold
Bold is a studio occupied by young creatives with a social heart. We make ourselves heard from an attic in the heart of Utrecht. That attic, our studio, has been the breeding ground for the development of creative talent since 2018.

youth communication by youth
Ever heard that joke about people over 40 that "understand" youth communication? Guess what: we understand it better. We are the target group, because we are young. Pretty nifty, if we may say so ourselves. In our work we are honest, a bit cheeky and always clear, creative and thorough. That's what we value.
portfolio
This is bold's work. Follow us on Insta to look behind the scenes.



bold bosses
Right now, Jennifer, Sem, Bo, Siënna en Eline are in charge of the studio. The bold team changes every half year (in February and September). Do you want to do an internship at bold? Nice! Keep an eye on our vacancies page.


bold, at your service. kidding: we'll get it done for you.
Nice, you've scrolled all the way down here. That can only mean one thing: we've caught your interest. Do you want to create a campaign with a team that doesn't stay inside the lines? A team that knows the target group youth like no other? We would love to work with you. Email or call us.



among others, bold has worked with