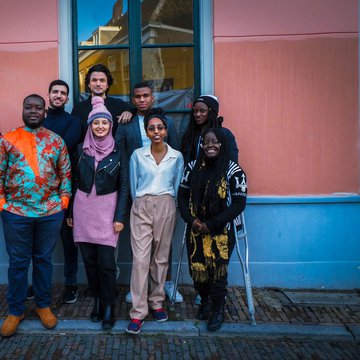 The Youth Advisory Committee (YAC) is a group of 10 young people from the Middle East, Africa, and the Netherlands who work together to create policy advice on the themes of education, work, and meaningful youth participation. This intercultural collaboration brings ideas and expertise to the table to enrich the policy processes of the Dutch Ministry of Foreign Affairs (NL MFA).

how do we work?
The YAC follows tracks and sprints. Tracks are used to develop a new strategy or policy advice, but also products such as podcasts. Sprints are short, often one-time activities such as brainstorming or preparing for an international event. The YAC comes together twice a year. During these meet-up weeks, members receive training sessions, go on working visits, and do teambuilding activities. The meet-up week also gives NL MFA policy officers a chance to immerse themselves in the tracks.

Youth@Heart
There are many young people in parts of Africa and the Middle East that have difficulty with getting acccess to education and work – or they have a job that does not pay enough. The Dutch government wants to invest in the future of youth so that they can build a better, more resilient future. The YAC strives to contribute to the ambitions of the Youth@Heart strategy in order for policy fits with the reality of young people in the focus regions.

structure
NJR coordinates and coaches the YAC, while NL MFA works with the members and uses the results for policy making. West Wing and CHOICE for Youth & Sexuality ensure that the YAC is anchored within the Ministry, and embassies support the members and connect them with embassy strategies.

The current Youth Advisory Committee
Curious about which 10 young people are part of the Youth Advisory Committee? Check it out here!

questions?
Contact Sam Kuiper.