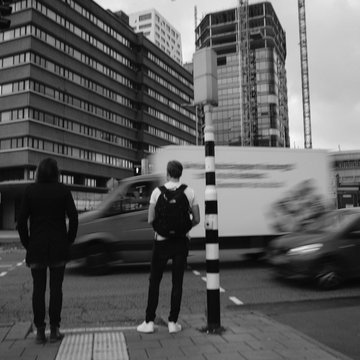 NJR Mind Matters (Hoofdzaken in Dutch) is a panel of 35 young people who use their experiences in mental healthcare (GGZ) to make the world a bit better for young people with psychological problems. What do they do, exactly? They share their story with healthcare professionals, offer their input to policy makers and give guest lessons.


The youth at NJR Mind Matters wants to improve mental healthcare for others and prevent them from ending up in that situation. To support them in this, we help these young people discover their strengths. We also train them to share their story in a way that makes an impact. This way they can use the power of vulnerability like never before.
Their guts and courage to share their own story helps them grow too. They also always leave a deep impression on the professionals they work with because of their openness and constructive critical input based on experience.
Through the panel, (healthcare) professionals and policy makers are given a glimpse into the experience of youth in a GGZ programme. At the same time they are confronted with areas where youth and professional help could become better matched.
"What works at NJR Mind Matters is our mix between personal stories and a professional outlook. We can move and touch where needed, but can just as easily work with technical jargon and have influence at policy level."
— Jesse Vos, Mind Matters participant
many stories make the difference
NJR Mind Matters has existed since 2015 and has grown into a strong speaker about psychological issues among youth. We work on fighting stigma and help improve the lives of young people with psychological problems. By giving young people more influence over their own treatment. And by creating more support for the consequences of psychological problems at your school or institution, for example.
NJR supports our many partner organisations to create a meaningful experience for everyone. We strive towards co-creation and contact between youth and professionals that is as equal as possible, such as by ensuring serious preparation, influence over decisions and feedback about what has been done with young people's input.


"The youths at NJR Mind Matters have made a unique contribution to the destigmatisation project. They can turn personal experiences into valuable knowledge and showcase a high level of reflection in doing so. With Mind Matters I can trust that they are also honest when we miss the mark. What most impacted me was the positive message young people had the courage to put into words, despite the examples of bad care. This showed great resilience and a willingness to help professionals."
— Maartje van den Essenburg, policy advisor, Knowledge Centre for Child and Adolescent Psychiatry (Kenniscentrum Kinder- en Jeugdpsychiatrie in Dutch).


do you want to work with the youth panel NJR Mind Matters?
Contact Naomi den Besten, senior project leader mental health: [email protected].
do you have experience in the GGZ and do you want to join the youth panel?
Once a year we recruit a new group of young people. Keep an eye on NJR's social media channels for the vacancy and go ahead and subscribe to the Changemaker Newsletter.


want to read more?
Read this report on psychological health.